Saunders was a sketch artist who worked for Canine Security. In his only appearance, Boomer described his missing collar to Sunders, but he drew a pony instead. His boos then told Saunders that he was fired, and hinted that this wasn't the first time Saunders had done something like this.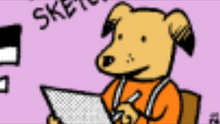 Ad blocker interference detected!
Wikia is a free-to-use site that makes money from advertising. We have a modified experience for viewers using ad blockers

Wikia is not accessible if you've made further modifications. Remove the custom ad blocker rule(s) and the page will load as expected.