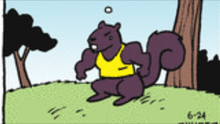 Peanut was a squirrel. He worked out in order to get revenge on Poncho for some unspecified event.
He and Poncho agreed on a time to fight in the park. However, Poncho was currently faking a broken leg, and Carmen was sent in his place. He attacked Carmen, and she tripped over a tricycle and faked an injury as well. Poncho later made fun of Peanut for focusing so much on his upper body, causing Peanut to work on his lower body, suggesting he will return sometime in the near future.
Ad blocker interference detected!
Wikia is a free-to-use site that makes money from advertising. We have a modified experience for viewers using ad blockers

Wikia is not accessible if you've made further modifications. Remove the custom ad blocker rule(s) and the page will load as expected.