Mr. Moo Mittens is the closest thing to a friend Poncho has among the cats.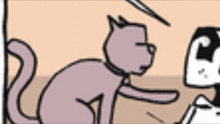 He unplugged Carmen's vacuum when it got stuck on Poncho's nose. He attempted to shake hands with Poncho, but the dog refused.
When Boomer, Pops, and their team snuck into the house, he used Plankie to keep them from falling.
He can speak dog.
Ad blocker interference detected!
Wikia is a free-to-use site that makes money from advertising. We have a modified experience for viewers using ad blockers

Wikia is not accessible if you've made further modifications. Remove the custom ad blocker rule(s) and the page will load as expected.