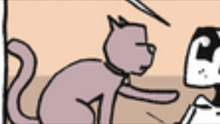 Mr. Moo Mittens
is the closest thing to a friend Poncho has among the cats.
He unplugged Carmen's vacuum when it got stuck on Poncho's nose. He attempted to shake hands with Poncho, but the dog refused.
When Boomer, Pops, and their team snuck into the house, he used Plankie to keep them from falling.
He can speak dog.